Procchio small village in the center of the Elbe, and the sand beach is 1 km long and is one of the most beautiful of the Island.
Procchio beach resort
The popular seaside resort, is located in the center of the Island of Elba, in the municipality of Marciana.
The origins of the locality
Its origin is traditionally traced back to the Latin personal name Proculus, in any other case it would derive from the Latin adjective prociduus "low, flat".
History of Procchio
Already popular from the Paleolithic era, "the locality of the Field in the Hague", the flat area of Procchio was formerly characterized by an unhealthy pond; to the above Monte Castle and the ruins of a small fortress, the etruscan period, while in The village of Pauline (the ancient name Castiglioncello changed from the mid-TWENTIETH century), there are scant remains of the roman age.
On the promontory that closes to the west of the beach, called Agnone, from the Latin word angulus, (corner), already in roman times there was a quarry of marble onions.
The Battle of the Lamaia
In 1799, during the clashes between the population of elba and the French soldiers who were occupying the island, it came to a bloody assault known as the Battle of Procchio.
The slaughter of Procchio
During the German occupation, in 1943, the beach was infamous for having been the theatre of the so-called massacre of Procchio
The Wreck of Procchio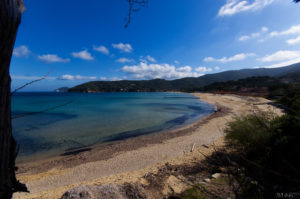 It is a small ship, the wreck happened around 190 d.C. in the eastern sector of the beach (the locality of the Campo Aia – The Spiaggiola), contained the goods very heterogeneous blocks of the sicilian sulfur, wine amphorae gauls, cups of glass and gold perfume bottles with a precious cap criselefantino depicting Dionysus and Pan) and represents one of the most important wrecks so far discovered in the Italian waters. Also known as Boat of the Notch, probably from the name of the alleged owner.
La Guardiola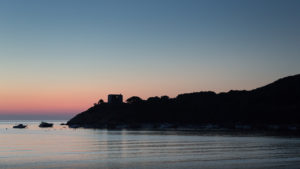 Sul promontorio roccioso della Punta del Porto, che chiude ad est la spiaggia di Procchio, si trova un antico edificio militare noto come La Guardiola. Attestato per la prima volta nel 1822, nato come uno dei numerosi posti armati del litorale elbano, come probabile struttura d'avvistamento.
On the rocky promontory of the Tip of the Harbour, which ends in the east of the beach of Campo Aia, is a former military building known as The Guardhouse. Attested for the first time in 1822, was born as one of the many places armed with the coast of the island of elba, as the likely structure of the sighting.